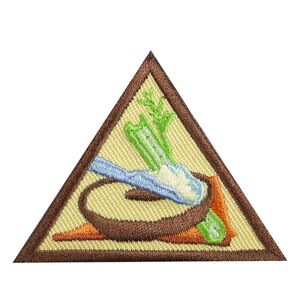 The Snacks Try-it is part of the "Legacy" badge set introduced in 2011. It replaces the retired Eat Right, Stay Healthy and Make It, Eat It Try-its.
For the badges released in 2011, scouts must complete all of the activities listed to earn the badge.
Activity #1: Jump into the World of Snacks
Edit
How much sugar is in the foods we eat. See the sugar content of common foods (shown in sugar cubes)
www.youtube.com/watch?v=kMmB8E9XXAo
Measure how much sugar is in the foods we eat in the "How Sweet It Is! Measuring Glucose in Your Food" science experiment.
How does the body process different types of sugars? Do the "Sucrose & Glucose & Fructose, Oh My! Uncovering Hidden Sugar in Your Food" science experiment to find out.
Activity #2: Make a Savory Snack
Edit
Pizza Mummies. We did this badge in October, and had fun making Pizza Mummies for our savory snack treat.
Banana dogs: 1 hot dog bun spread lightly with peanut butter and jelly with 1 banana cut in two length-wise (using the other half for a second sandwich).
Activity #3: Try a Sweet Snack
Edit
S'mores anyone?
Activity #4: Snack for Energy
Edit
Megan's granola. We had fun making this at a meeting to take on a camping trip. Each girl brought in a ingredient to add to the mix (because we were taking it camping we left out anything that might melt, and anything with peanuts because of allergies). The leader brought in the oatmeal, honey, and syrup.
Activity #5: Slurp a Snack
Edit
Candy Corn Smoothies. The girls had fun making three different types of smoothies and layering them together.
Fruit smoothies: 1/2 cup yogurt (vanilla or plain with some honey), 1 cup frozen fruit of your choice (if the fruit is in large chunks - like mangos - you may need to let it partially thaw so the blender doesn't get stuck), fresh banana (for thickening), and 1/2 cup milk (optional). Scoop all of these into a blender and let her rip until everything is well mixed.
Additional Resources
Edit