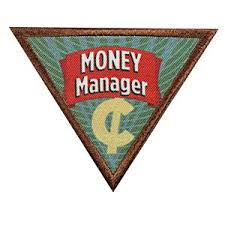 The Money Manager Try-it is part of the "Financial Literacy" badge set introduced in 2011.
For the badges released in 2011, scouts must complete all of the activities listed to earn the badge.
Please add ideas to customize the Try-it activities and other useful resources below.
Activity #1: Shop for Elf Items with Your Elf Doll
Edit
Go by your self with the play money
Go Shopping with A brownie Friend with your play money
Go Shopping with your brownie Group with your play money
Activity #2: Go Grocery Shopping
Edit
Window shop at a store- spend less then $30 for healthy food
Shop with a newspaper-spend less then $30 for healthy food
Shop on line- spend less then $30 for healthy food
Shop at the farmer's market. Less chaotic than trying to get at the store, and it's more fun to price comparison with beautiful fruits and vegetables.
Activity #3: Go Clothes Shopping
Edit
Browses through catalogs- pick out 3 outfits that cost no more then $30 each.
Go to the mall- can you get he prefect pretend outfit for $30 or less?
Shop secondhand- Can you put together 2 pretend outdate for $30?
Activity #4: Get Ready for School
Edit
have $15 total- pretend to shop for 1 person
you have $30 total- pretend to shop for 2 people.
Pool your money- Pretend to shop for MANY people with $15 each.
Activity #5: Have Some Fun
Edit
Pretend you have $30
price going to the movies
price spending the day outdoors
price an outing for your whole troop.
Additional Resources
Edit
Ad blocker interference detected!
Wikia is a free-to-use site that makes money from advertising. We have a modified experience for viewers using ad blockers

Wikia is not accessible if you've made further modifications. Remove the custom ad blocker rule(s) and the page will load as expected.