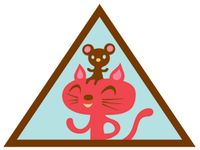 Friends are another kind of family. They're the people you have fun with and who help you when you need it.When Brownies earn this badge, they will know how to be a good friend.
Step 1: Make friendly introductions
Edit
Step 2: Show friends you care
Edit
Step 4: Learn how to disagree
Edit
Step 5: Practice friendship
Edit
Ad blocker interference detected!
Wikia is a free-to-use site that makes money from advertising. We have a modified experience for viewers using ad blockers

Wikia is not accessible if you've made further modifications. Remove the custom ad blocker rule(s) and the page will load as expected.