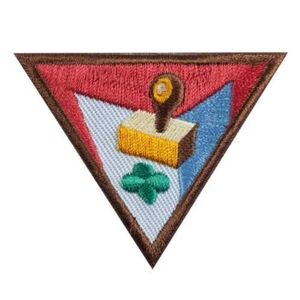 The Letterboxer Try-it is part of the "It's Your Story Tell It" badge set introduced in 2011.
For the badges released in 2011, scouts must complete all of the activities listed to earn the badge.
Activity #1: Get Started with Letterboxing
Edit
More than likely, your girls have not heard of this activity. This is the time for a brief discussion about what letterboxing is and what they will be doing in order to go on their letterboxing treasure hunt.
Here is another resource, Atlasquest.com, which will give a you a wonderful introduction to this activity. You may want to run some copies off for the girls to share so that they have a firmer grasp of these new concepts.
Activity #2: Find Your Own Stamp
Edit
One of the items girls will need to earn this badge is their own stamp. You can purchase rubber stamps or have the girls bring in their own from home. But even better is to have the girls make their own stamp.

While researching the easiest way to make your own letterboxing stamp, I came acrossthis article on the Silly Pearl blog. It does not involve pliers or knives, something many online tutorials had.
Materials
Foam sheets
Wooden block
Elmer's Extreme Glue Sticks (if using regular foam and not peel and stick foam)
Sharpie markers-dark colors
Scissors


This is a set of 45 peel and stick foam sheets. No need for glue! Make sure the girls rub it onto the wooden block so it gets a good stick.  Available on Amazon
Amazon also has a huge assortment of inexpensive ink pads so that each girl in your troop can have one of her own. 
Ink Pad Assortment Available on Amazon
Make Your Own Notebook (craft)
Letterboxing is not just leaving your stamp in the hidden notebook, you also get to place a stamp inside your own personal notebook.
Girls can easily make these themselves. They should be small, like the size of a small memo pad. Use cardstock for the cover and back cover and punch a hole at the top. Use a ring to keep it and the pages you have precut together. The girls can decorate the front.
Activity #3: Practice Solving Clues: 
Edit
Which way is North? How do you read a compass?
This is something the girls have probably done in school. Have the girls invent their own code using numbers or letters (A=B, B=C, etc) and then they have to switch with another member of the troop to solve it.
Activity #4: Search for a Letterbox
Edit
Here is where the fun begins! Have each girl bring her letterboxing notebook, stamp, ink pad and pencil, along with snacks and a water bottle, on your trip.

If you have time, you might want to go and find the letterboxes ahead of time with your co-leader, just to be sure that they are still there.
Activity #5: Make a Letterbox.
Edit
This final step will require you to have permission to leave a letterbox in your area. Call your local township and ask if you can hide it in some areas you have already preselected.
Once you have permission, then give the girls a few choices on what the stamp you will leave in the box will be. Make it easy on yourself and print out a few options from a craft store website. Then go ahead and purchase it with an inkpad, a memo pad, and a waterproof container.
For another field trip, have the girls go with you to hide it!
Additional Resources
Edit
Science Scavenger Hunt from Family Education http://printables.familyeducation.com/childrens-science-activities/printable/5629.html?WT.mc_id=FE_Printables_2012-03-14_email