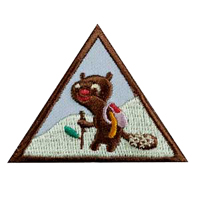 The Hiker Try-it is part of the "It's Your Planet - Love It!" badge set introduced in 2011.
For the badges released in 2011, scouts must complete all of the activities listed to earn the badge.
Please add ideas to customize the Try-it activities and other useful resources below.
My troop did the first 4 requirements at a meeting, then did the hike as part of a camping trip.
Activity #1: Decide Where to Go
Edit
Activity #2: Try Out a Hiking Skill
Edit
Activity #3: Pick the Right Gear
Edit
A few tips for selecting your hiking stick is to cut down saplings in an area where lots of little trees are growing together.  This is called thinning and actually helps your forest develop. One sapling can yield 1-2 hiking sticks.  Just becareful they are not to get ones that are too large in diamater cause they will be too heavy to carry.  It is also better to cut in the fall after the leaves have fallen off so the wood is not as full of sap.  It will take several months for the sticks to dry or you can dry over a fire at camp.  Just set them high enough above flames so they will not scorch.  We used two saw horses over fire once it was down to hot coals and added minimal logs to keep it a low flame.
To size a hiking stick for adults you would hold your arm at a 90 degree angle while holding the stick. The place where your hand sits is the best placement for the handle.  Cut 4-6 inches taller.  For little girls who are growing fast I would cut it a little taller and allow for a larger hand space so it will last them a couple of seasons.  Don't go too big or it will be too heavy to carry and they will sit them down and lose them.  You can also attach rubber cane tips to the bottoms so they will last a little longer.
Think of a hiking stick as a paddle it helps you use the strength of your arms move you up hills or it can be used as a handrail as you are going down hill.  
Activity #4: Pack a Snack for Energy
Edit
Activity #5: Go on Your Hike!
Edit
Additional Resources
Edit
Ad blocker interference detected!
Wikia is a free-to-use site that makes money from advertising. We have a modified experience for viewers using ad blockers

Wikia is not accessible if you've made further modifications. Remove the custom ad blocker rule(s) and the page will load as expected.