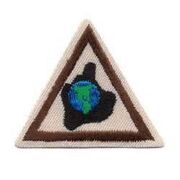 Please add ways to customize the Earth is Our Home Try-it activities here, and include useful resources below.
As with all Brownie Try-its, scouts need to complete 4 activities to earn the badge.
Activity #1 Clean and Green
Edit
Activity #2 Project Recycle
Edit
Activity #3 Stop a draft
Edit
Activity #4 Cooking with sun
Edit
Activity #5 Recipe for a miniworld
Edit
Activity #6 Earth's Caretakers
Edit
Additional Resources
Edit
Ad blocker interference detected!
Wikia is a free-to-use site that makes money from advertising. We have a modified experience for viewers using ad blockers

Wikia is not accessible if you've made further modifications. Remove the custom ad blocker rule(s) and the page will load as expected.