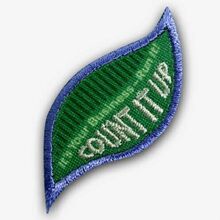 The Count It Up Daisy leaf is part of the "Cookie Business" badge set.
Activity #1: Find out What Cookies Cost
Edit
Activity #2: Learn about Different Kinds of Cookies
Edit
Play the Headbanz Girl Scout Cookie Guessing Game.
Activity #3: Set a Sales Goal
Edit
Additional Resources
Edit
Meeting Plans
Edit
Meeting plan. Here is our meeting plan for Counting It Up. Our troop is a mixed troop, so the main discussion included all of the girls, then we broke apart into different levels for the rest of the meeting.