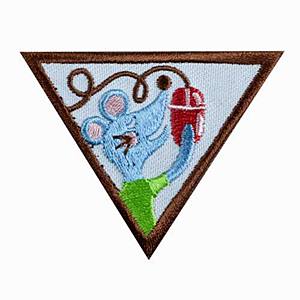 The Computer Expert Try-it is part of the "It's Your World - Change It!" badge set introduced in 2011.
For the badges released in 2011, scouts must complete all of the activities listed to earn the badge.
Please add ideas to customize the Try-it activities and other useful resources below.
Activity #1: Paint or Draw with an Art Program
Edit
STEP ONE: PAINT OR DRAW WITH AN ART PROGRAM
1.Paint a computer program. Use a computer art program to make a picture of your favorite person or place. Use bright colors, shapes, and fun drawing tools. Then print it and share! If your computer doesn't have an art program, ask an adult to help you find a website that lets you paint or draw. (Here's one to try: http://www.girlsgogames.com/game/artpad.html)
OR
2.Create a cool card. Create a thank you card with pictures on the front and a nice message inside. Give it to someone who's helped you. For MORE fun: Make a birthday card, too. (Or a Christmas card!)
OR
3.Build a bookmark. First make an outline of the size you want (one inch wide and six inches long is a good place to start). Decorate it using an art program , then print it. Cover the bookmark in thick, clear tape to make it rip proof and use it in your favorite book. For MORE fun: Make special bookmarks for all your Girl Scout friends.
Activity #2: Find Some Cool Facts
Edit
STEP TWO: FIND SOME COOL FACTS
1.All about animals. Surfing the Internet is like visiting a digital zoo! Pick an animal you're interested in but don't know a lot about and use search engines to study it. Take notes as you read to create a Top 5 list of favorite facts to share.
OR
2.Hometown History. How much do you know about where you live? Use search engines to find out more about your hometown or the closest big city. Learn five fun facts to share with your Girl Scout friends.
OR
3.Online art walk. If you like art and visiting museums, then you've got a whole world to explore online. Search for a famous art museum and take their online tour. Once you know your way around, host an online tour for a friend or family member. For MORE fun: Find an old doll or toy collection to see what your grandparents might have played with.
Activity #3: Take a Trip Online
Edit
STEP THREE: TAKE A TRIP ONLINE
1.Road Trip. Visit a mapping site on the web. Find where you live on the map and zoom in to see how close you can get. Try the same thing with your school, a friend's house, and somewhere far away, like a relative's house in another state. For MORE fun: Find directions from your house to a place you want to visit. How long would it take to drive there?
OR
2.World Adventure. Pick another country you want to visit one day. Find information to make a short travel guide. include facts on language, money, and major holidays. For MORE fun: See if the country's home to Girl Scouts or your sister Girl Guides. #2 IS GREAT PRACTICE FOR WORLD THINKING DAY!
OR
3.3..2..1..Blastoff! Use the web to head into outer space! Pick any planet in our solar system and find five interesting facts about it, including how that planet got its name. Share what you find with your Girl Scout friends.
Activity #4: Make a Connection
Edit
STEP FOUR: MAKE A CONNECTION
1.Here is my card. Search online for "e-cards" and you'll find dozens of sites that let you send free greeting cards designed for birthdays, holidays, or to just say hello. Send an e-card to three friends or relatives and let them know why they are important to you.
OR
2.You've got mail! Send thank you notes by email when a friend or family member gives you a gift or does something nice. Use either your own email address or an adult's (with their permission). For MORE fun: Attach a picture of yourself in your Brownie sash or vest.
OR
3.Dear President... Did you know that you can send the president a message online? Search for the white House page on the web, then write the president a message about what's important to you. (You could do this for a different elected official, too.)
Activity #5: Have More Computer Fun
Edit
STEP FIVE: HAVE MORE COMPUTER FUN
1.Game on! Visit at least three kid-friendly gaming sites and play the most popular games. Talk about your favorites with your Girl Scout friends. How would you make the games more fun or more challenging?
OR
2.Dance on! Create a five-song play list that you can dance to at your next party or Girl Scout meeting. For MORE fun: With an adult's help, download your favorite new song to add to your mix.
OR
3.Print on! Use a computer to create your own stationery with your name on the top and patterns around the edges. Print a small stack and use it to send thank you notes to cookie customers, invitations, or notes just because.
Additional Resources
Edit
BrainPop Online Security video. This is a great quick video explaining to children how to stay safe online. Very well done.
Ad blocker interference detected!
Wikia is a free-to-use site that makes money from advertising. We have a modified experience for viewers using ad blockers

Wikia is not accessible if you've made further modifications. Remove the custom ad blocker rule(s) and the page will load as expected.