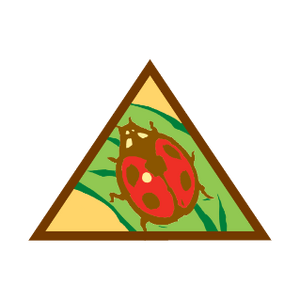 The Bugs Try-it is part of the "Legacy" badge set introduced in 2011. It replaces the retired Animals Try it.
For the badges released in 2011, scouts must complete all of the activities listed to earn the badge.
Please add ideas to customize the Try-it activities and other useful resources below.
Activity #1: Draw a Bug Poster
Edit
Activity #2: Try a Bug Craft
Edit
The web has a ton of bug craft ideas:
Activity #3: See Bugs in Action
Edit
Activity #4: Explore Bug Homes
Edit
Activity #5: Take a Bug Field Trip
Edit
Go on a Bug Safari in your backyard: www.kidsdiscover.com/blog/parentresources/bug-safari-for-kids
We took a field trip to the National Zoo - we went early on a Sunday morning and had 100% of the attention of the Invertebrate House volunteer.  She couldn't have been more wonderful with the girls.  She brought insects out for the girls to see up close and made learning about insects fun.  Our tour ended up in the butterfly garden.
Additional Resources
Edit